6 Signs to Watch for in Aging Family Members This Holiday Season
Put on those flannel pjs. Throw a log on the fire. Bake a batch of Christmas cookies. Then gather the family around and let the sing-alongs begin! The holiday season is finally here, that fun and fabulous time of which we've been waiting all year! It's a time to celebrate, a time to rejuvenate, and most importantly — a time to communicate, with the ones we love. The holidays are a perfect time to really check in with everyone in your family to find out how they're doing, remembering that the greatest gift we can give to anyone is the gift of love and support.
This holiday season, as we gather together to share these joyous times, many of us will be spending time with the matriarchs and patriarchs of our extended families. There's so much we can learn from our seniors. Our aging family members have lived long lives and are wise from their vast experience. But time can take a toll on the body, and the mind, when one gets on in years, so the holidays are especially a good time to check in with aging family members, and watch for signs that they may be struggling. Let's take a look now at 6 of our top signs to watch for and issues to consider in your aging family members.
Mobility & Daily Tasks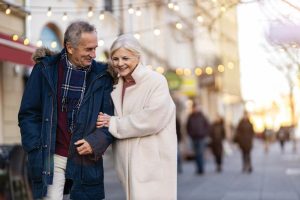 Mobility is a word that has many applications and is the key to our ability to accomplish essential daily tasks. This holiday season, watch for signs that your loved one could be struggling with mobility. Can they get in and out of bed on their own easily? Do they struggle sitting or standing up? Is walking painful, or slower than you noticed last time you were together? Chronic pain in seniors due to joint and muscle issues is common. If your loved one is exhibiting signs that getting around the house, standing, dressing themselves or bathing is becoming difficult it may be time to have a frank discussion about senior living. Senior living communities can give just the right amount of assistance when it's needed, and only when it's needed… allowing your loved one to maintain their independence.
Eating Well, and Safely
Mobility and eating well are certainly connected, for if your loved one is having trouble with mobility then there's a high probability that they're not eating well either. Preparing meals at home can be a strenuous series of tasks, from the lifting of pots, pans, and bags of groceries to the endless chopping which is painful for aging finger joints that are likely arthritic. (And let's not forget the danger of working around a hot electric stove or open-flame gas stove, both of which require quick action if an item unexpectedly catches fire or if cooking grease flames up.)
But beyond the aches, pains, mobility, and safety issues that could be hindering your loved one from eating well, there's much more to consider. Aging can sometimes decrease one's sense of smell and taste. So, the smell test on that gallon of milk might work for you, but it may not work for your aging loved one. And since taste is sometimes diminished, they may not always know something has gone bad, which can bring on nasty gastrointestinal problems, such as foodborne illnesses that are tough for anyone of any age to deal with.
Additionally, your aging loved one may not be eating well-balanced meals anymore because there's no motivation. Oftentimes, after someone loses a spouse, they may no longer feel there's any point to making a fuss over meal preparation and may choose instead to keep it simple by eating a bowl of cereal or just snacking on junk.
So, this holiday season, take a look around and see what your loved one has stored to eat. Check 'best by' and 'expiration' dates. A quick look around, and an observation of their habits can give you a sense of whether they're eating healthy or not.
Keeping Up with Crucial Medications
Many seniors take daily prescription medications, some which are crucial and life-supporting. If you're home for the holidays for an extended period, or hosting an aging loved one, take notice of their medication schedule and observe how committed they are to staying on it. As you know, medications schedules should be adhered to like clockwork, especially if the medications are life-supporting, as many are. Ideally, your loved one is taking their medication on the proper days and at the exact times as directed by their physician, but after taking notice if you find that they're skipping days then that's a problem.
Additionally, as we age it's not unusual to be more forgetful, but forgetting to take medications can cause detrimental health effects. And seniors who experience regular forgetfulness or who may be in the early stages of dementia could possibly double their medications because they've forgotten that they already took them earlier in the day. This is not a good situation either.
So, if your loved one is experiencing any of the aforementioned problems it could be time to consider senior living in a community that will ensure their medications are never skipped, doubled, or forgotten altogether.
Changes in Behavior or Personality
The onset of dementia can bring about personality changes that you and your family may not have expected. Dementia can sometimes cause outbursts from your loved one. These outbursts could be due to mental changes, or possibly because your loved one is fearful of losing control of abilities they once took for granted. It's understandable that one would be scared and filled with anxiety if they knew that they were sliding into dementia. We all have our moments of frustration but if these personality changes are concerning or frequent, you may want to consider the supportive environment senior living offers.
An Abundance of Weekly Medical Appointments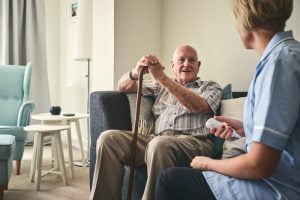 Spending the holidays with an aging parent is an opportunity to not only enjoy the fun and fellowship of this special season together, but it's also a good time to talk to them about their health and the future of their care. You may discover that their need to see physicians and specialists has increased since you last checked in. Having an abundance of appointments can be stressful if they have to drive or arrange transportation. It can be overwhelming for some, and if so, it could be a good time to discuss their senior living community options.
Residing in a senior community can alleviate their stress, and yours, knowing that senior community team members will always get your loved one to their medical appointments, or in some cases, even arrange for the specialists to come to the senior community.
And You
Sometimes it's not just your loved one that should be observed — sometimes it's you. Take time this holiday season with an aging parent to assess how you're doing, because how you're feeling can certainly impact how they're going to feel. If you're a primary caregiver for a senior loved one then you know it can be a lot of work, and you may feel overwhelmed if you already have a full plate of responsibilities. No one is a superhero in real life, only in the movies. But if you're feeling anxiety, loved ones can feel that too, and therefore it may be time to consider senior living.
Senior living communities today are vibrant and social environments, and getting a little help can be a stress-reducer for your aging loved one, and you too. After you make the transition to a community, you'll likely find that there's more time to simply enjoy being together, and that… is what family is all about.
Happy Holidays From Our Family at Park Place to Yours!
We hope this holiday season brings your whole family joy. It is, as they say, the most wonderful time of the year. And we hope the time you spend observing your aging parent yields no surprises and that all is well, but if you do find that problems are arising, call us. At Park Place at Winghaven, we know what you're going through, and we understand the challenges that seniors face. We're here to help whether you have just a simple question about our community, or if you're ready to schedule a tour with your loved one. Call us, and let our family be there for yours this holiday season.
---
Posted on: