5 Fun Holiday Activities For Seniors with Alzheimer's and Other Forms of Dementia
Can you feel it? That familiar chill in the air as neighborhood homes begin to twinkle with an array of beautiful colors, and then suddenly those tasty cookies appear… yes, it's holiday season at last! And while the holiday season might be a little colder on the thermostat, our hearts are a little warmer because this is the special time of year when we try to slow down,  focus our priorities, and take more time to give back in gratitude, and… spend time with the ones we love.
Taking time out to spend with our families during the holidays is the best gift of all. The holiday season is a great time to check in with everyone in your family, to see how they're doing; it's a chance to reprioritize our lives and home on what truly matters, and to most of us, that's family.
This holiday season many families will visit with loved ones suffering from memory loss. And whether you're taking the whole family to a memory care community or visiting your loved one in their home, or bringing them to yours for the holidays, it's important to have a plan. Structure and planning can help to ensure that your loved one is comfortable and cared for, but also that they are engaged and feel connected to everyone.
When the holidays kick into gear, there are so many options for families who want to get active and spend time together. And while some may not be appropriate for those living with dementia, many are just fine, with family supervision of course. The ground rule for everyone to grasp is that we must connect with our dementia-suffering loved ones in their world, and not try to force them into ours.
As a primary caregiver or concerned family member, you probably already have an understanding of this ground rule, and fully grasp the new and necessary modes of communication that are most ideal for achieving happy moments with your loved one. However, family members coming in from out of town for the holidays, or even from out of the country, who have had only a few visits, or maybe even no visits, with your loved one will sometimes need instruction from you on how to make their visits pleasant and joyful. If you take the time to give them a little help, and raise their level of understanding about dementia and how it is affecting your loved one, it will not only make visits more enjoyable for them, but it will make your loved one with dementia more comfortable, less anxious, and ready to engage in the holiday cheer. So, now let's take a detailed look at our 5 favorite fun holiday activities for seniors with Alzheimer's and dementia.
#1 – Get Crafty Together: Fun for the Whole Family!
The holiday season and all its many and varied celebrations have one common denominator, and that's a need to create things to set the mood. Crafting is a wonderful way to keep everyone engaged. When we make things with our hands from scratch there's more love in them, and the activity keeps our minds working, which is a great thing for all of us and especially dementia-sufferers.
There are so many things that you can make together, and bond while doing it. Making a seasonal wreath or holiday garland is a great way to accomplish two goals at once. One, you get to take a walk together for gathering your materials, whether that's a trip out back to the woods, or to the local craft store if you're a city-dweller. It's always healthy to go for a walk, so getting some exercise while you forage for your wreath and/or garland materials is an excellent idea. Two, you get to work closely together on something fun with your loved one. And once you've got everything you need, you can work together as you style it. Decorating and crafting for the holidays are fun, creative activities, and creative activities are known to boost cognitive function.. No matter your craft choice, the bonding will be the highlight.
#2 – Bake Some Tasty Treats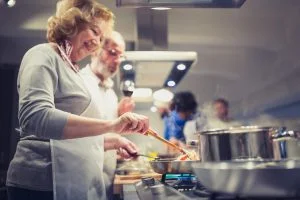 The holidays just wouldn't be quite as fun, or delicious, without all the holiday treats. Of course, you can buy your treats from the store, but nothing says 'holiday family time' like baking from scratch, at home with the whole gang. Baking is a great way to bring your family together, from the tiniest of tots, to the senior members of your family. And with baking, there's a task for every skill level, which will allow everyone to contribute, but also keep the potentially dangerous tasks like cutting shapes or dealing with a hot oven for those who are best suited for these jobs.
But the bottom line is that your whole family can enjoy the baking experience together. And your senior family members may even have some old recipes in their mind that they want to share, which will give them an additional sense of purpose and keep them in the holiday spirit. Whatever you bake, you'll be doing it together, and that is what makes the holiday time so special.
#3 – Listen to Classic Holiday Music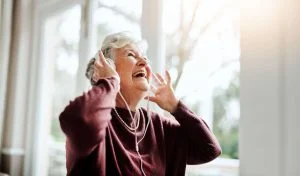 Dust off the old albums and pop one on the record player, or if you don't have one of those anymore, just listen to holiday music on the internet. Listening to music is one of the best holiday activities for seniors with Alzheimer's. Ideally, play some popular holiday songs from when your loved one was young or in their early adult years, and you may find that they still know the words by heart. It bears repeating that your loved one with dementia may be able to connect with distant memories, and music tends to stay with us better than some other things. Music is also a common form of therapy for those with cognitive impairment, so this activity is high on our list.
#4 – Go for a Walk to See the Neighborhood Christmas Lights
If you live in a walkable neighborhood, bundle up the whole family and go for a walk to see all the beautiful Christmas lights. Plan your route in advance, and know what you'll be seeing, because flashing lights or extremely busy light decorations may be disorienting or even frightening for your loved one with dementia. But if you've traveled your route in advance, and feel comfortable with all you'll experience on the walk, then taking a nice, healthy walk with the family to view Christmas lights can be an enjoyable experience for your loved one.
#5 – Conquer a Giant Puzzle Together
Order some holiday-themed jigsaw puzzles and conquer one or two together. Do an internet search and you'll find countless holiday puzzles.. Jigsaw puzzles are one of the best holiday activities for seniors with Alzheimer's because they are an activity that everyone can work together on, and at their own pace. Heat up some mulled cider, fill the room with that distinctive holiday smell and then take over the kitchen table and let the puzzle fun begin. Kids love puzzles so they can help too, and this will be a perfect way for your loved one to bond with your young children in an activity that everyone enjoys. And again, creative activities that put the brain to work are an excellent way to boost cognitive functioning in your loved ones with dementia.
Enjoy the Moments
The holidays are all about sharing and caring. And each moment you have with your loved one can be an opportunity to connect. As Alzheimer's and dementia are often unpredictable, in regard to how fast or slow they'll progress, each moment you have with your loved one is a treasure. So, from our family at Park Place at Winghaven, to yours, happy holidays!
---
Posted on: